Taekwondo Competition
A Taekwondo competition is a chance to test yourself against other martial artists and, perhaps, win medals for your Taekwondo skills. In the ancient history of Taekwondo, similar events were held.
I remember my first competition. I was a yellow belt, having just started sparring classes, and I was allowed to compete in a local tournament hosted by a local dojang. I practiced really hard to get ready, attending every class that I could. My dad took me to the high school where the event was held. I really didn't know what to expect. I remember watching the forms and the breaking competition (I hadn't registered to compete in those); my dad hung out in the stands and watched.
After lunch it was my turn. Three people were in my division (boys, ages 12-14, yellow/green belt). I drew the bye and was to be paired with the winner of the first match.
Never having fought in a tournament, I was learning as I went. I watched the other two fight it out, not knowing what to look for. The winner was a green belt who was a little bit taller than I was.
When they called our match, I was ready to go! I don't honestly remember too much about the fight, but I scored two points in the first of two rounds, both round house kicks with my left leg. However, the green belt was obviously more experienced than I, and won the match handily.
I accepted the silver medal (not really thinking I deserved it) and I swore that I was never going to be beaten again. That didn't exactly happen!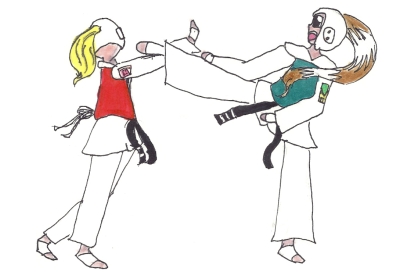 Women Sparring, by Kathryn Lichlyter
Why Compete?
Who competes in Taekwondo competitions?
Those who love to win!
Those who love the challenge of testing themselves against other martial artists.
Those who like to get medals (as well as those who don't care so much about it).
Those who want the feeling of being the best at something.
Those who must participate as a requirement to move up to the next belt.
Those who are crazy enough to think that they are the best in the world and no one can beat them (if you qualify for the Olympics, you are probably not crazy and you are among the best in the world).
A competition brings several dojangs together to allow students to test their skills against one another. Generally, a tournament includes sparring, forms, and breaking. Occasionally, exciting categories like "creative forms," "team forms," or even weapons are part of the competition.
What to expect:
While we cannot prepare you for every single tournament, there are two things always to expect.
Waiting: Chances are you will have to wait. Usually, participants register and weigh in first thing in the morning. So you must be there even if you may not be participating until late in the afternoon (or evening). While you wait, cheer on your teammates, make new friends, and watch the rest of the competition. If you're a higher belt, offer to help. Often, you will see athletes in warm-up suits pacing the hallway, listening to iPods, trying to stay loose and kill time.
Direction: A lot of people will tell you what to do. Tournament organizers range from professionals who have done it many times before to volunteers who have never done anything like it before. The more advanced the tournament (for instance, a local tournament hosted by one school vs. an international tournament), the better organized it will be. But at any competition, people will tell you to line up, sit down, go here, go there, wait, don't wait! Just be patient and work with them.
What kinds of tournaments are there?
Know what sort of tournament it is that you're interested in. If you are going to a WTF, ITF or ATA sanctioned tournament, then you'll probably know the rules going in, since tournament organizers have to abide by the sanctions of the governing body.
Other competitions, often known as "open" tournaments, may not follow the same rules or procedures. You might find mixed martial arts styles in an open tournament, similar to the UFC style or mixed martial arts style of fighting.
If you want to participate in a certain tournament, check with your instructor to make sure that it's really something you should participate in.
Suggestions for competing:
Practice, practice, practice. Talk to your instructor; if you want to compete, you may be required to participate in special classes. You want to be able to do your best, whether you win or not. It is unreasonable to expect to do well in a tournament if you don't practice. I have never seen any fighter make any state level or national team without working at it.
Label your gear. It's easier than you think to lose your gear or pick up the wrong bag.
If you participate in forms, have a clean, crisp uniform. You should have one for sparring as well, but it is more important (and more visible) in forms.
Stay hydrated. Drink water or sports drinks throughout the day.
Know the rules. Ask your instructor to help you understand them. It is important to know the details. Some tournaments alter rules to accommodate different styles and different levels of experience or age. Don't be afraid to ask questions! If you are competing in a WTF-sanctioned tournament, operating on the WTF rules, click here for the official standards.
If you are serious about competing, talk with your instructor about nutrition and extra exercises or classes. Conditioning is important; those two or three rounds of fighting are intense! I have a friend of mine who has a great training web site for martial arts that covers conditioning for martial arts at www.Martial-Art-Potential.com.
Be sure to get some sleep before the event.
Know where you should be – and be there. Ask (respectfully) for instructions about where, when, and to whom you should report. And be there. If you're not at the place you should be at the right time and lose out on your event, it isn't the organizer's fault.
Ask your instructor if someone can be at the tournament to coach you if you are sparring.
If you're competing in breaking, have all your material ready (and backup material if necessary). If you're breaking bricks, bring a tarp or mat to place on the floor under your material. Sparring on broken-brick sand is no fun for anyone.
If you're doing forms, appearance does matter. Have the right belt, the right uniform, and a neat appearance.
Enjoy yourself!
What if I win?
Depending on the tournament, it could be that if you win, you will qualify to go to the next level of competition.
If you win, enjoy the victory! Put the medal on display for the world to see – maybe your living room mantel will work. Remember that it doesn't make you better than your friends, but you should certainly be happy about your accomplishment.
What if I lose?
More people lose than win in any tournament. How did you do compared to how you did last time? Did you do your best you could? Did you have fun? Most competitors are disappointed if they lose, but they know it's not the end of the world. They chalk it up to experience. If they have learned something from it – about competing or about themselves - they consider it a personal victory.
In my career with Taekwondo I certainly lost more matches that I care to admit. But I always got back up and tried again, learning from my mistakes and disappointments. Even though I didn't win, that didn't make me a loser.
(Check out this page if you're frustrated and not advancing belts or winning in a Taekwondo Competition.)
As I often have said to my girls, when they were learning to ride bikes, "It's not how many times you fall that counts, but how many times you get up and try again after you fall."
Now, we want to hear about your tournament experience.
We want to hear about your Taekwondo competition experience...
Brag on yourself, your child, your team, whatever... load pictures! We want to hear about it!